How to Combine Print and Digital Marketing Campaigns
How to Combine Print and Digital Marketing Campaigns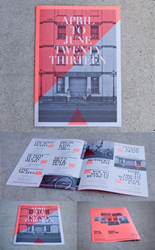 Brochure printing with PrintUK.com

(PRWEB UK)
25 October 2017
You may think the days of print marketing are something of the past and yes the medium of printing has had to move over to make room for the rapid rise in digital marketing but it should not be neglected. Companies are beginning to realise the vast benefits of producing printed marketing materials, advertising their business or products and services they offer to a larger audience. Living in an age where our lives are consumed by online marketing and televised advertising, printed marketing material can now seem unusual. It is however the unusual and the different which grabs the attention of your consumers and potential new customers. Utilising a variety of media outlets and taking a cross media approach will ensure you reach the widest audience base possible and guarantee the success of your marketing endeavours.
Using marketing channels in Unison
In order to maximise the outcome of any marketing campaign it's crucial to use a variety of different channels, from digital marketing to printed advertising. Working in unison these forms of advertising can generate significant results for your business. Delivering a message straight to your consumer's door i.e. leaflets, flyers or brochure printing is a great way to spread the word about your product or services. Consumers in the retail sector have stated that mailed materials (direct mail) are one of the key sources of information they use when making a purchasing decision over digital advertisements. An effective use of printing can be when used in conjunction with a social media campaign asking subscribers to sign up for notifications of promotions and marketing materials. Now, this is not to say you should abandon your digital marketing strategy but really look to incorporate the two.
Reaching your Target Audience
For marketing to be successful you need to ensure you are reaching out to your target demographic so they can see and hear your brands message. This can no doubt be difficult especially for SMEs who need to utilise as many marketing avenues as possible in order to grow their consumer base. Targeting the right demographic can be difficult if you just use conventional forms of advertising. However, printed media combined with a direct mail campaign can deliver your message straight into your customer's hand.  A great way to maximise the impact of your marketing campaign is to use, flyers, leaflets and printed brochures targeting the demographic audience you want especially through direct mail. Ensuring your product is visible is important: ensuring it's visible to the right people is essential.
Keeping it Consistent
Most businesses market their product or services both on and offline, utilising a variety of media channels. Social media marketing is a fast-paced ever evolving form of marketing, requiring regular content updates across multiple outlets and, as a result, this can lead to inconsistencies in your branding and message, you have to take into consideration that social media is arguably not the best marketing platform for B2B companies. Do not forget about your commercial printing and published materials, these must coincide with your online marketing strategy as well. Keeping consistency across your logo, imagery and the tone of voice used is crucial every time you post on social media or produce printed materials. The more effective you are at doing this the faster your audience will begin to recognise your brand and the service and products you offer. Streamlining your social media marketing with you printed marketing materials is key to driving the success of your brand.
Regardless of the desirability surrounding the use of digital marketing there are still countless reasons you should NOT cut down on your print marketing budget. With a variety of techniques and simple tips you can follow there is no doubt that allowing print and digital marketing to work together can produce greater results than each used in isolation.
Learn How we created this post on complete Autopilot, then posted it to our social Media Accounts Automatically:-